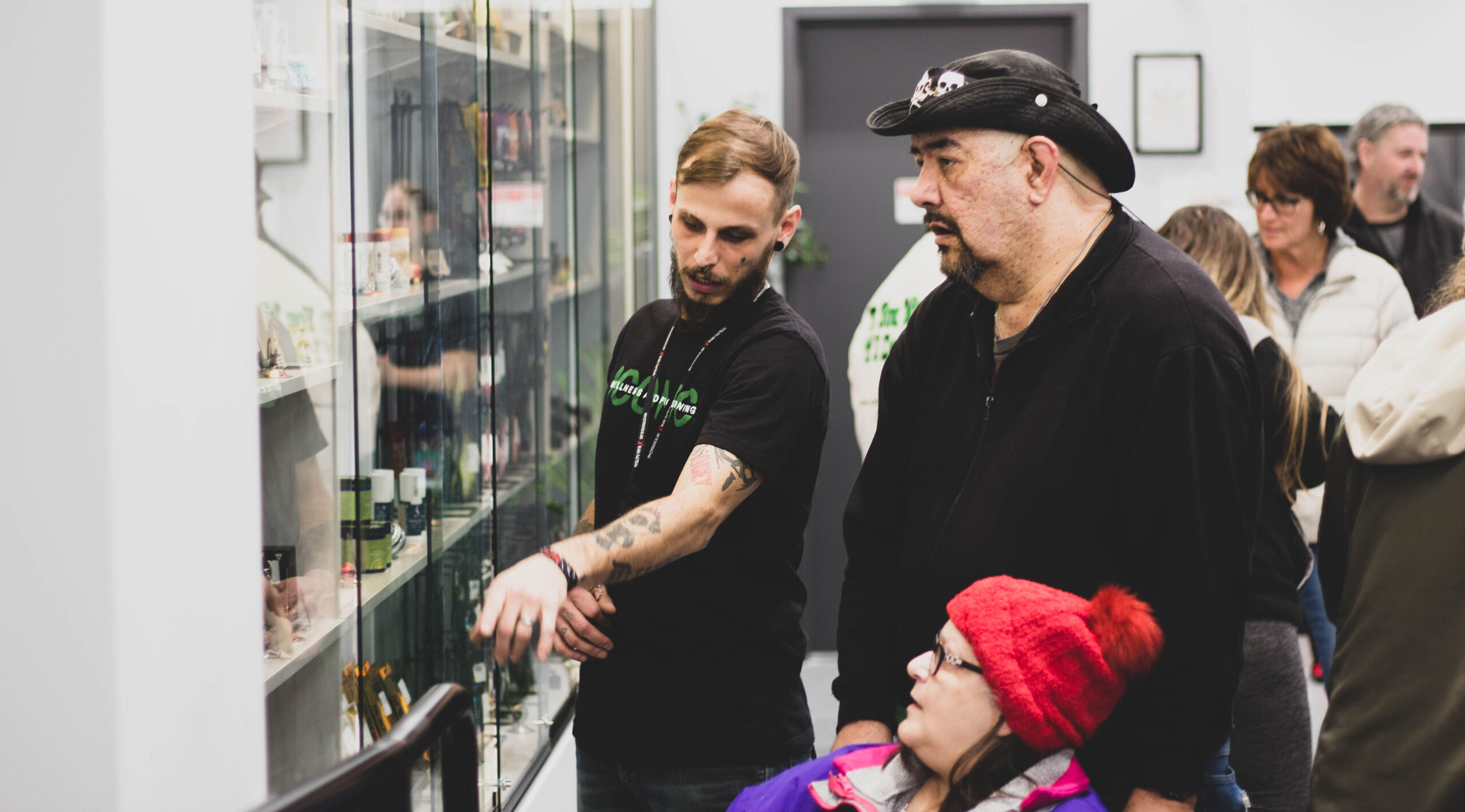 11 Cannabis Product Types You Can Buy in Michigan
From a classic joint to a refreshing drink to a soothing body rub, there's way more than one way to experience cannabis. If you're looking for something new to try, these 11 cannabis product types offer their own unique advantages and experience with the plant.
The 11 most popular cannabis product types in Michigan
If you visit a Michigan cannabis dispensary like Iconic, you're likely to encounter many (if not all) of these 11 product types. Whether you're new to cannabis or you're quite familiar, there's a product type available for every preference.
1. Cannabis flower
This is what many of us think of what we think about cannabis. It's the dried and cured buds that grow on mature female cannabis plants, ready for smoking, vaping, or turning into oil or butter. People have been consuming cannabis flower for millennia, using it for medicinal purposes, ritual, and just as a way to relax.
Why try it?
Flower is the classic consumption experience. In fact, it's the top-selling product type in Michigan every month, making up 45.16% of all cannabis sales in the state in June 2022, according to Equio data from New Frontier Data.Flower is versatile, too. You can grind it up and roll it in a joint or blunt, you can vape it, or you can turn it into canna-butter or oil at home.And if you've been consuming cannabis for a while, you get to know and appreciate the nuances between the hundreds of cultivars (AKA strains) out there. Examining the flower, noting its flavors and scents, and comparing how different cultivars make you feel is a reason in itself to love flower!
How it works:
Each cultivar has a unique compound profile – a combination of phytocannabinoids like THC and CBD and terpenes like myrcene and limonene. How you'll feel depends on the combinations of these compounds and how they work together, which is called the entourage effect. You can expect cannabis flower to kick in around 10 minutes after inhaling, and it should last for 1 to 3 hours.Not sure which cultivar to buy? Tell your budtender about your cannabis goals – whether you want to relax, feel energized, or something totally different – and they can guide you to the right cultivar. You can also look at the flower's test results to see the cannabinoids and terpenes for yourself before buying.
How to use it:
Using the help of a grinder, take your flower and mill it into small, even bits. Then place your flower in a rolling paper, cone, dry herb vaporizer, bong, glass pipe, or other method of your choice. Light up (or heat up), and enjoy.
2. Prerolls
Prerolls are cannabis flower wrapped in paper and ready to use with no additional work needed on your part. They're a quick and easy way to get ready-to-go cannabis for your next session.
Why try it?
If you don't like rolling but love flower, prerolls are a great option for you. They're especially useful if you don't think you'll go through a whole jar of flower, don't have your rolling supplies with you, want to try a new cultivar, or don't want to deal with grinders or rolling papers. Prerolls represented nearly 10% of all cannabis sales in Michigan in June 2022, according to New Frontier Data.
How it works:
Prerolls are joints or blunts packed with cannabis flower, offering the same experience as if you'd rolled a joint yourself. Just like flower, the compounds in your chosen cultivar influence your body's ECS to feel a certain way. You can expect to feel the effects of a preroll the same as you would cannabis flower.
How to use it:
Prerolls are made to be inhaled right out of the package. Light the end of your preroll with a lighter and inhale from the mouthpiece — most prerolls will have a filter.
Protip: When lighting a preroll, slowly rotate the end of your joint to burn the paper evenly. This prevents one side of the preroll from burning faster than the other, also known as "canoeing."
3. Vape carts
Vape carts skip the smell of and the sometimes-messy prep involved with flower. Instead, these products are filled with cannabis extract that's heated up and inhaled. Vape carts come in many styles and sizes, including .5g and 1g carts that attach to a battery and a disposable unit that comes with the oil and battery in one device.
Why try it?
If you want a product that offers more discretion than the telltale smell of flower, a vape cart may be for you. They're convenient and easy to store in your bag and take with you, so they're great if you're on the go. You might also opt for vape carts if you don't love the idea of "lighting up." These advantages make vapes the second most popular cannabis product type in Michigan, accounting for about 24% of all cannabis sales in June 2022, according to New Frontier Data.
How it works:
The most common vape cart you'll find has a 510 thread connector, which screws onto a small battery. When turned on, this battery heats up a filament inside the cart, which heats the oil and instantly vaporizes it. Some batteries allow you to change the temperature, while others only have one setting. Some vape carts are specific to a certain brand, like Stiiizy carts or Dart pods.Like flower and prerolls, expect a fast onset of effects and a duration of a few hours. And just like flower and prerolls, your experience will also depend on the compound profile of your vape cart.
How to use it:
Many 510 thread batteries have a single button on the side that you use to turn it on and off, as well as change temperature. On many of these models, hold down the button and inhale. Some models are much more advanced, with an app to control temperature On disposable models, there's no button to hold – just inhale. The way vapes work can vary from model to model, so read your device owner's manual for specifics.Keep in mind that vape carts are highly concentrated, with much more THC per inhale than flower or a preroll. So take it slow when trying a vape and see how you feel before inhaling again.
4. Gummies
Tasty, discreet, easy to measure – no wonder gummies are one of the top edible choices for Michiganders, representing about 15% of overall cannabis sales in June 2022. They come in many flavors and formulations, including just THC, THC and CBD, or THC and other cannabinoids.
Why try it?
If you want a long-lasting cannabis experience without the hassle of measuring or a grassy aftertaste, gummies are a great option. Gummies also have a relatively long shelf life, so a pack lasts a while without expiring (when stored correctly).
How it works:
Gummies work quite differently than inhaled products. They make their way through your digestive system first before releasing into your bloodstream. That's why it takes longer to feel the effects of a gummy – and why they last longer, too.
How to use it:
Chew a gummy thoroughly and swallow – but gummies (and all edibles!) aren't this simple. How an edible affects you depends quite a lot on your tolerance, what you've eaten that day, and more factors. So pay careful attention to how much THC is in a serving. If you're new to gummies, stick with a small amount, around 5mg. And most importantly, be patient: It could take up to two hours to feel a gummy's effects.
5. Drinks
Cannabis drinks may be quite new in Michigan, but their popularity is ever-growing all over the U.S. From seltzers to soda to non alcoholic wine, these innovative edibles are one of the hottest cannabis product types.
Why try it?
Drinks blend right in at a party without any of the alcohol. And much like gummies and other edibles, cannabis drinks are discreet and offer an easy way to control the amount you take. Plus, many drinks have a small amount of THC per container, so it's great if you prefer low amounts in your session.
How it works:
Like gummies, cannabis infused drinks take some time to kick in and last for several hours. But depending on how the drink is made, you may feel the effects a lot faster than you would with an edible. So look out for the word nano or nanotechnology on the label – it means the THC molecules were broken up in a way that makes them easier to blend into water and absorbed by your body.
How to use it:
Drinking a cannabis beverage is just like sipping your favorite non-infused drink. Just open the container and enjoy. You can sip these beverages over time to carefully control how much THC you're consuming. Keep an eye on how much THC is in a container or a serving to make sure you don't accidentally drink too much. And like all cannabis edibles, go low and slow until you know how a cannabis drink will affect you.
What about other edibles?
Brownies, dried fruit, mints, chocolate, sauces – name a treat, and you'll find a delicious way to consume THC. Just like gummies and drinks, these products are measured in precise amounts per serving, so they're easy to dole out and keep an eye on how much THC you're consuming. They all offer unique, tasty, and discreet ways to enjoy a cannabis session. For the latest selection of edibles, peep the Iconic Wellness menu.
6. Concentrates
Concentrates pack a punch. This umbrella term covers a whole host of products that differ from one another in texture and appearance. But under the hood, they all offer elevated levels of THC. Some examples of concentrates include live resin, wax, and shatter.
Why try it?
If you have high tolerance for THC, concentrates are the product for you. They're an easy way to consume more THC and other phytocannabinoids and terpenes with just a little bit of product.
How it works:
Concentrates are generally inhaled by vaping them in a dab rig or electronic device built for "dabbing." Since concentrates contain such high levels of THC and other cannabinoids compared to flower, you can expect to feel the effects quickly – and intensely. Those effects quickly taper off, though, especially when compared with long-lasting products like edibles.
How to use it:
Concentrates can be consumed in a few ways, but the most common is vaporizing them in a dab rig. The area where the concentrates go is made burning hot with a blowtorch or electronically with an e-nail. Once ready, pop a bit of the concentrate onto the hot nail. It'll instantly vaporize, and you inhale. If you opt for an electronic device like a dab pen or a dual electronic vaporizer, follow the instructions that came with it.You can also break up some concentrates and use them with flower. This is best for concentrates like hash or shatter, that are easier to break up and handle with your fingers.
7. RSO
Rick Simpson Oil (RSO) is an activated concentrate that you don't need to vaporize. This super-thick concentrate is eaten or – less commonly, although it was its original intended use – used as a topical. It's quite rich in phytocannabinoids and terpenes, and comes in a syringe for easy dispensing.
Why try it?
RSO is especially popular among medical patients and consumers who like extracts but don't want to use a dab rig or e-nail. It offers elevated levels of THC, usually exceeding 90%. And because so little product goes a long way, one syringe full of RSO contains dozens or even hundreds of servings.
How it works:
RSO is a biphasic cannabis product, which means it'll absorb into your bloodstream through your mouth which part of it digests like an edible. That means RSO is felt quite quickly, but has a longer duration than other fast-acting products.
How to use it:
Follow the "start low, go slow" rule here. Only a tiny amount packs a potent punch. Wait some time and see how it affects you before consuming more.
8. Tinctures
Cannabis tinctures are activated extracts preserved in a carrier oil, such as MCT oil, olive oil, or coconut oil. Highly potent and fast acting, tinctures make it quick and easy to get a substantial serving of cannabinoids.
Why try it?
If you want a fast-acting cannabis product that doesn't involve inhaling, give a tincture a try. Easy to measure droppers make dispensing a breeze. They're also relatively flavorless and odorless, although you'll find tinctures with added flavoring from time to time.
How it works:
Like RSO, tinctures are biphasic. You'll feel the effects quite quickly and they'll last for several hours.
How to use it:
Use a tincture's dropper top to measure how much you want to take. Read the label to determine how much THC is contained in the whole bottle and how much is in a serving, then adjust accordingly. Place the tincture under your tongue and hold it there for at least 30 seconds before swallowing.
9. Topicals
Gels, muscle rubs, lotions, sprays – the topicals category is quite varied, with products designed for reasons ranging from athletic recovery to skincare. Excellent for sore muscles and joints, topicals often work together with other cannabis products to help deliver welcome relief.
Why try it?
Unlike the other product types on this list, topicals are localized and are only felt where they're applied. They don't produce intoxicating or psychoactive effects — yes, even if they contain THC. That means the vast majority of topicals will not cause you to fail a drug test, nor will they get you high, but they'll still address pain or discomfort where you need it most.
How it works:
Topicals absorb through your skin like any other lotion you apply. There, they interact with the endocannabinoid system's receptors in your skin to help introduce relief to that area of your body. You should feel the effects quite quickly, within a few minutes.
How to use it:
Take the desired amount and rub it into the affected area until absorbed. Check your specific topical for additional instructions.
10. Transdermal patches
Transdermal patches are placed directly on your body, which might make them seem like topicals, but there's one big difference. Cannabinoids in transdermal patches reach your bloodstream.
Why try it?
Transdermal patches offer all-day effects without needing to continually inhale. Place a patch under your clothes for maximum discretion. If cannabis helps you with pain management, transdermal patches can be especially effective.
How it works:
The way transdermal patches work is spelled out in the name. Unlike other topicals, the cannabinoids in a transdermal patch enter your bloodstream, so you'll feel the effects throughout your body. These cannabinoids are released slowly over a 24-hour period. This gives them a unique advantage over most other product types, which last several hours at most.
How to use it:
Affix the transdermal patch to the part of your body as recommended on the package. Leave it there as long as you want the effects to continue or for as long as the package says to do so.
11. Weed lube
Cannabis-infused lubricants are available on the market in Michigan, and they're not just for when love is in the air. Infused lube products could offer some health benefits over other types of moisturizers for sensitive areas.
Why try it?
Cannabis lubricant may certainly be an intriguing aphrodisiac, but THC-infused lubricant may also benefit from the cannabinoid's antibacterial and antifungal properties. It's designed to be sensitive enough for your most intimate areas to help you stay moisturized and healthy.
How it works:
Infused lubricant typically contains other ingredients such as tea tree oil, which can help lubricate and hydrate. On the compound level, THC and cannabinoids are absorbed into your skin, but generally do not enter circulation. This means effects are localized rather than systemic and you're unlikely to feel high from using weed lube.
How to use it:
Infused lubricant is applied directly, much like topicals … and we'll leave the rest to you.
Shop Michigan dispensaries
Cannabis products are constantly growing, changing, and innovating. And at Iconic, we have full menus with plenty of options for every taste, needs, and experience. Our helpful budtenders can help you navigate the menu and choose something that's just right for your needs. And you can always explore our menus to get an idea of what's in store before you head to the store.