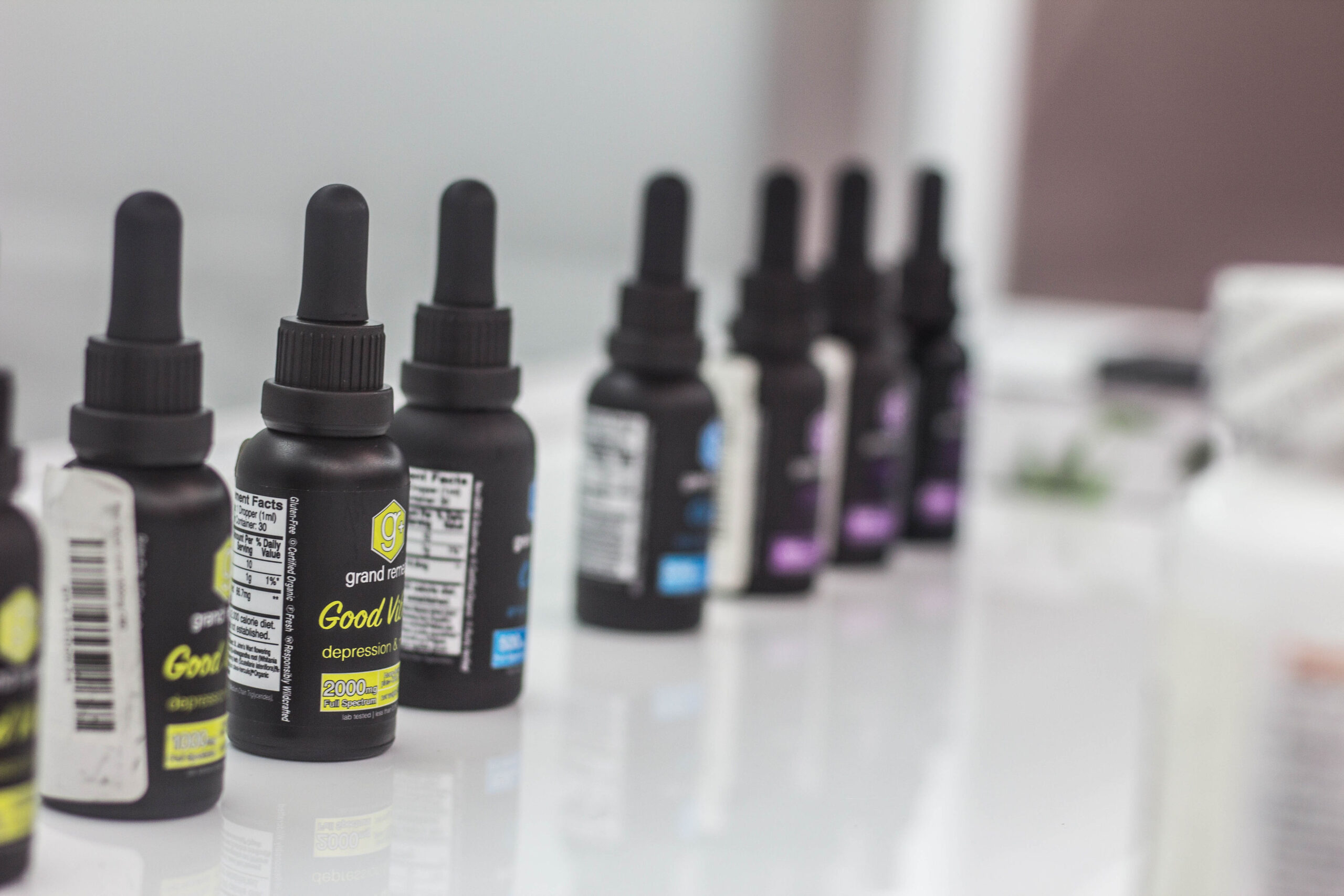 Cannabis Tinctures: Trying And Buying Them
Tinctures are one of the most convenient and easy ways to consume cannabis smoke-free. But what exactly is a cannabis tincture and why might you choose it? This guide walks you through everything you need to know about trying and buying cannabis tinctures.
What are cannabis tinctures?
Cannabis tinctures are liquid cannabis extracts mixed with a carrier oil like MCT that you take by placing under your tongue (AKA sublingual). They typically come in small dropper bottles that you can easily measure out and put in your mouth or add to food or a beverage. 
Tinctures are typically made by soaking cannabis flower in a solvent to extract THC, CBD, and other phytocannabinoids from the plant, creating a potent extract in the process. Importantly, the flower is decarboxylated first – or heated to activate the phytocannabinoids. "Decarbing" the flower is what makes the phytocannabinoids work and the reason why you don't need to heat the tincture before taking it.
Are CBD tinctures different?
CBD tinctures are similar to THC tinctures, but are made from low-THC industrial hemp that contains less than 0.3% THC, rather than high-THC marijuana. Unlike cannabis tinctures, CBD tinctures are non-intoxicating, but they still offer therapeutic effects like better sleep, anxiety reduction, and pain alleviation. 
In the dispensary, you may encounter a few different types of tinctures, including CBD-dominant, THC-dominant, and balanced varieties. While CBD tinctures are non-intoxicating, THC tinctures will get you high. Balanced tinctures offer a 1:1 THC:CBD ratio, which you might find helpful if THC helps you without feeling overwhelmingly high.
CBD tinctures may be found outside of a licensed dispensary since they are derived from hemp and don't require a license to sell. However, it's important to remember that CBD tinctures from a dispensary must undergo third-party testing for quality and safety, while those at gas stations or convenience stores are not. It is always safest to purchase all cannabis products, including tinctures, from licensed dispensaries. 
Why should you try cannabis tinctures?
Here's a closer look at the "why" behind the reasons tinctures can be an excellent addition to your cannabis regimen.
Rapid onset and long duration:

Most cannabis products offer either a fast onset of effects or a long duration, not both. Tinctures provide the best of both worlds. Because they both

absorb through tissue in the mouth and the digestive system

, they get to work right away and continue working for up to hours at a time.

Discretion

: Unlike other consumption methods, tinctures do not produce smell or smoke. Additionally, they're generally packaged in a discrete glass bottle with a dropper top, making it easy to consume without drawing unwanted attention.

Convenience

: It doesn't get any easier than placing a dropper under your tongue and dispensing a few drops of extract. And with the built-in dropper top, you don't need any extra accessories to consume. All you need is the bottle the tincture comes in.

Precision:

The droppers included with tinctures allow consumers greater control over serving size. With a tincture, you can take exactly the amount you want, helping you achieve your desired experience every time.

Smoke- and vapor-free:

Tinctures are orally ingested, making them an excellent option for cannabis lovers who don't want to light up. 
How do cannabis tinctures work?
Tinctures are biphasic products. That means they take effect through two routes: through your mouth membranes (sublingual) and your digestive tract (ingestible). Their biphasic nature gives tinctures a unique set of characteristics that make them stand out from other cannabis products.
Through the sublingual route, cannabinoids are absorbed through the mucous membranes in your mouth to directly enter the bloodstream. This is why tinctures take effect quickly after consumption, usually within minutes.
The second route tinctures take into your body is via ingestion, when the remainder of the liquid is swallowed and digested, much like edibles. This is what gives tinctures their longevity of up to 4 hours, as it makes its way through your liver before entering your bloodstream.
What are cannabis tinctures good for?
A preliminary study in 2019 found that 69% of patients aged 75 to 102 who consumed cannabis tinctures experienced relief from adverse effects, including improvements in sleep, pain, neuropathy, and anxiety. About 32% of patients also reported a reduction in the need for opioid pain medication. 
Tinctures containing THC are also effective if you just want to enjoy cannabis. Taking a tincture containing THC will hit faster than eating an edible but last longer than inhaling smoke or vapor, making it a highly efficient consumption method for anyone who enjoys the plant.
How do you use cannabis tinctures?
To apply a tincture sublingually, load up the dropper with the desired amount of liquid, and place it under your tongue. It's ideal to hold it there as it absorbs; around 30 seconds to 1 minute is typically recommended. Swish the remaining liquid around your mouth and swallow the rest.
Most tinctures list the suggested serving sizes on the packaging. However, the ideal amount can be highly individualized. Consider your tolerance and your goal for taking the tincture when deciding how much to consume. If you're not sure about your tolerance, start with a low amount of 5mg or less and slowly work your way up over time until you achieve the desired effects.
If you're using the tincture to help with sleep, consuming a single high dose may be more beneficial. If you intend to use the tincture for general daytime wellness or another purpose, microdosing or consuming very low doses throughout the day may be better. 
What cannabis tinctures are available at the dispensary?
While dispensary associates will be able to help, it's always good to have an idea of what you're looking for before heading to the shop. Generally, you can expect to find tinctures ranging anywhere from 200mg to 1000mg. You'll also find lots of formulations, with calculated CBD to THC ratios tailored to your desired outcome. You'll also find some dominant in a minor cannabinoid like CBN. 
And as you look at the label, don't forget to check for any terpenes that may be in your tincture. These unique plant compounds can shape your experience, from an energizing brainstorming session to a relaxing night watching your favorite shows. 
In addition to cannabinoid and terpene content, flavors, size, and dosage are other factors to consider when choosing a tincture. At Iconic Wellness, you'll find various tincture options that offer high CBD and balanced ratios. You'll even find mouth sprays that work the same way as tinctures!
Dosing without doubt 
Ready to try out a cannabis tincture? Visit one of our Iconic Wellness locations to have all your options laid out for you by one of our dispensary associates. You can also sign up for Iconic Rewards to get great deals on cannabis products like tinctures.